Emoji Words Level 381-400
Emoji Words Level 381-400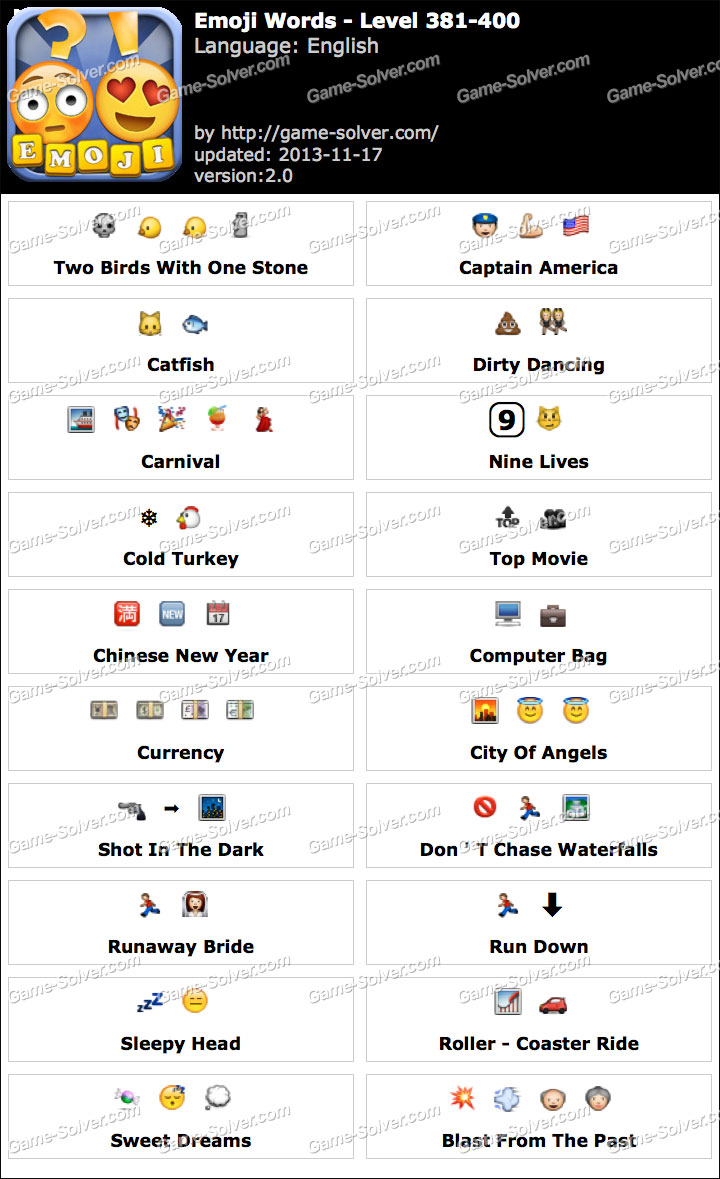 Emoji Words Level 381-400
Emoji Words Level 381-400 Answers, Cheats, Solution with Word List and Emoji Icons for iPhone, iPad, iPod, Android.
Emoji Words Level 381-400 Word List
Two Birds With One Stone
Captain America
Catfish
Dirty Dancing
Carnival
Nine Lives
Cold Turkey
Top Movie
Chinese New Year
Computer Bag
Currency
City Of Angels
Shot In The Dark
Don ' T Chase Waterfalls
Runaway Bride
Run Down
Sleepy Head
Roller -Coaster Ride
Sweet Dreams
Blast From The Past
Like us if feel this helpful. Thank you.
Please Select Levels:
All Other Emoji Games
Emoji Pop by Six Waves Inc.
Emoji Pop Chuchu
Emoji Pop - Guess the Brand
Movies - Emoji Pop
Emoji Phrase
123猜猜猜(台湾版)
123猜猜图(香港版)
Food Pop
Words Pop
Place Pop
Crossword Pop
Costume Pop
What's Missing??
Game by Guess the Emojis
Game by Emoji+