Logo Quiz by Bubble Answers Level 18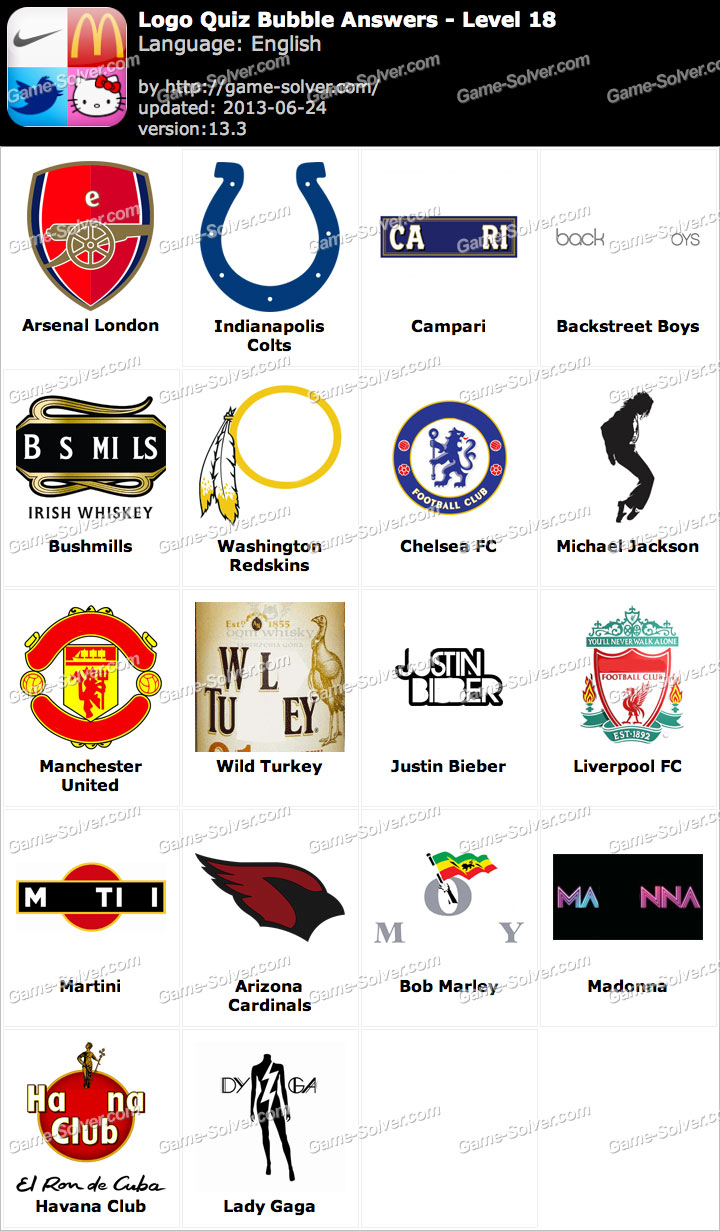 Logo Quiz by Bubble Answers

Level 18 Word List

Logo Quiz by Bubble Answers Level 18 Answers, Cheats, Solution with Word List and Logos for Android.
---
Arsenal London
Hints:
It is an English Premier League football club based in Holloway, London
It was founded in 1886 in Woolwich and in 1893 became the first club from the south of England to join the Football League
---
Indianapolis Colts
Hints:
They are a professional American football team based in Indianapolis, Indiana and play their home games at Lucas Oil Stadium.
The team was officially founded in Baltimore in 1953 and were based in Baltimore, Maryland until the team relocated to Indianapolis in 1984.
---
Campari
Hints:
It is an alcoholic apéritif (20.5%, 21%, 24%, 25%, or 28% ABV, depending on the country in which it is sold) obtained from the infusion of herbs and fruit (including chinotto and cascarilla) in alcohol and water.
It is often used in cocktails and is commonly served with soda water, wine, or citrus juice.
---
Backstreet Boys
Hints:
The group consists of A. J. McLean, Howie Dorough, Brian Littrell, Nick Carter, and Kevin Richardson
They are an American vocal group, formed in Orlando, Florida in 1993
---
Bushmills
Hints:
It is owned and operated by Diageo plc, and is a popular tourist attraction, with around 120,000 visitors per year.
According to the company, a distillery by this name was first recorded in 1743, although at the time it was in the hands of smugglers (in a quote attributed to Victorian whiskey journalist Alfred Barnard).
---
Washington Redskins
Hints:
They won the 1937 and 1942 Championship games, as well as Super Bowls XVII, XXII, and XXVI.
They were the first team in the NFL with an official marching band and also the first team to have a fight song, Hail to the R…….
---
Chelsea FC
Hints:
It is an English football club based in Fulham, London.
Their home is the 41,837-seat Stamford Bridge stadium, where they have played since their establishment.
---
Michael Jackson
Hints:
Often referred to as the King of Pop, or by his initials MJ
The seventh child of the Jackson family, he debuted on the professional music scene along with his brothers as a member of The Jackson 5 in 1964, and began his solo career in 1971.
---
Manchester United
Hints:
It is an English professional football club, based in Old Trafford
It is one of the wealthiest and most widely supported football teams in the world
---
Wild Turkey
Hints:
It is a brand of Kentucky straight bourbon whiskey distilled and bottled by the Austin Nichols division of Campari Group.
The distillery is located near Lawrenceburg, Kentucky. It offers tours, and is part of the American Whiskey Trail and the Kentucky Bourbon Trail.
---
Justin Bieber
Hints:
He was discovered in 2008 by American talent manager Scooter Braun, who came across Bieber's videos on YouTube and later became his manager.
He is a Canadian singerñsongwriter, musician, and actor.
---
Liverpool FC
Hints:
he club has won eighteen League titles, second most in English football, seven FA Cups and a record eight League Cups.
It was founded in 1892 and admitted into the Football League the following year.
---
Martini
Hints:
It is a brand of Italian vermouth.
It is the world's fourth most powerful spirit brand according to a survey of the situation in 2006.
---
Arizona Cardinals
Hints:
The team were founded in 1896, and are the oldest continuously run professional American football club in the United States
The team was established in Chicago in 1898 and was a charter member of the NFL in 1920. Along with the Chicago Bears, the club is one of two NFL charter member franchises still in operation since the league's founding.
---
Bob Marley
Hints:
was a Jamaican singer-songwriter and musician.
His best-known hits include I Shot the Sheriff, No Woman, No Cry, Could You Be Loved, Stir It Up, Get Up Stand Up, Jamming, Redemption Song, One Lov and, Three Little Birds
---
Madonna
Hints:
She has sold more than 300 million records worldwide and is recognized as the world's top-selling female recording artist of all time by Guinness World Records
Considered to be one of the 25 Most Powerful Women of the Past Century by Time
---
Havana Club
Hints:
It is rum made in Santa Cruz del Norte, Cuba.
The brand was established by José Arechabala in 1878. After the Cuban Revolution of 1959, the distillery and company was nationalized by the Cuban government; subsequently, the Arechabala family left for Spain, then emigrated to the United States.
---
Lady Gaga
Hints:
It came to prominence as a recording artist following the release of her debut album The Fame (2008), which was a critical and commercial success that topped charts around the world and included the international number-one singles Just Dance and Poker Face
She has sold an estimated 30 million albums and 70 – 80 million singles worldwide
---
Like us if feel this helpful. Thank you.
Please Select Levels:
Original Logo Quiz Answers
Bubble Quiz Game
Others