Let's Escape Level 10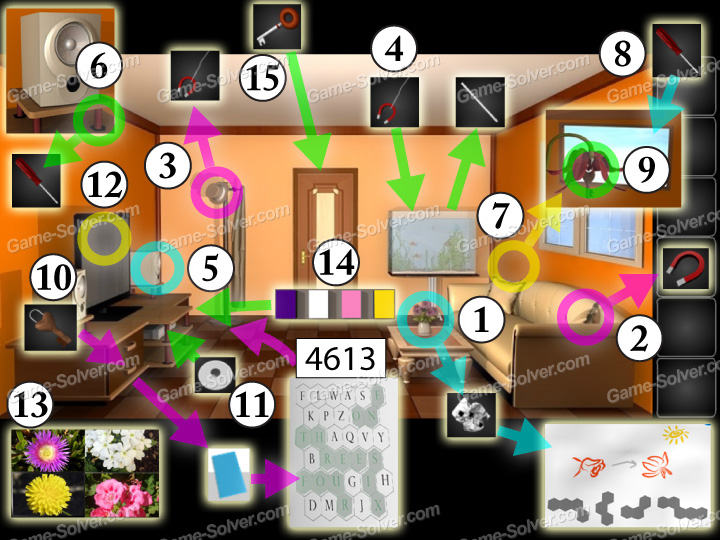 Let's Escape Level 10
Let's Escape Level 10 Walkthrough, Solutions, Cheats, Answers for iPhone, iPad, Android, Kindle, iPod Touch and other device by Mobest Media
Collect a piece of paper the ashtray.
Read the paper and understand the hints.
Collect a magnet under the cushion.
Tap the cap and collect some string from there.
String will attache to the magnet, use it in the aquarium.
Collect a part of screwdriver.
Now check the speaker on the left, collect a handle below the speaker.
Now explore the sofa and tap the plant on the left hand side.
Use screwdriver to open the cover, collect a key after the flower open up.
Now use that key to open the drawer on the left and collect a note.
Read the note and combine it with the hints on the paper.
Hints on the paper showing 4613.
Tap in 4613 to another side of the cabinet and collect disc.
Now insert the disc and tap the television to view next hints.
Remember the arrangement and those color.
Back to the cabinet just now, tap the safe and change to correct color.
Answers in the picture.
Open door.
Do you like this page ?
---
Please Select Levels:
Other Escape Game :
Game by Weiwei Huang
Game by Francesco Franchini
Game by 58works
Game by MPI Soft
Escape Game by Kaarel Kirsipuu
Game by noprops
Escape Game by Kristjan Luts
Game by Rustem Melnichenko
Game by Tasuku Kaimori
Game by Cybergate Technology Ltd.
Game by FreshGames, LLC
Game by Tedven
Game by Fireproof Games
Game by Mobest Media Ou
Others