Let's Escape Level 11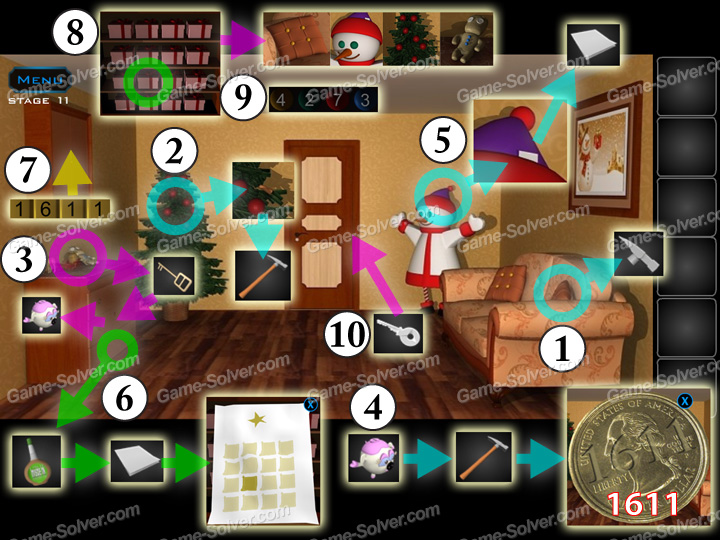 Let's Escape Level 11
Let's Escape Level 11 Walkthrough, Solutions, Cheats, Answers for iPhone, iPad, Android, Kindle, iPod Touch and other device by Mobest Media
Collect a part of hammer under the cushion.
Collect the handle of hammer from the christmas tree.
Now collect a key on top of the cabinet on the left.
Use the key to open the middle drawer and collect a piggybank.
Now zoom in the piggybank and use hammer to break it.
Zoom in the coin you received and you can see 1611, remember these numbers.
Check the snowman hat and collect a piece of paper.
Open the lower drawer of the cabinet and collect a bottle of liquid.
Zoom in the white paper and use the liquid on it, hints will appear.
Now tap in 1611 into the wall cabinet on the left.
Choose the right box according to the location from the hints just now.
From the cushion with 4 yellow buttons, it mean yellow = 4.
Snowman with 2 green eyes, green = 2.
Christmas tree with 7 red color ball, red = 7.
Doll with 3 blue color button, blue = 3.
So tap in 4273 and collect the last key.
Use the key to open door.
Do you like this page ?
---
Please Select Levels:
Other Escape Game :
Game by Weiwei Huang
Game by Francesco Franchini
Game by 58works
Game by MPI Soft
Escape Game by Kaarel Kirsipuu
Game by noprops
Escape Game by Kristjan Luts
Game by Rustem Melnichenko
Game by Tasuku Kaimori
Game by Cybergate Technology Ltd.
Game by FreshGames, LLC
Game by Tedven
Game by Fireproof Games
Game by Mobest Media Ou
Others