Let's Escape Level 9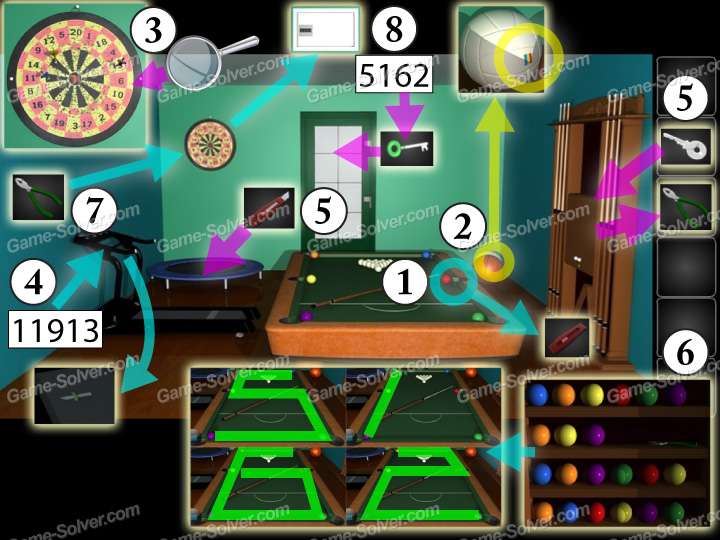 Let's Escape Level 9
Let's Escape Level 9 Walkthrough, Solutions, Cheats, Answers for iPhone, iPad, Android, Kindle, iPod Touch and other device by Mobest Media
Check those hole of the snooker table, collect a knife handle.
Check the ball beside, tap the ball and reveal the color.
Now check the dart board, remember the number with different color of darts.
So if we arrange the number according to the color on the ball, we will get 11913.
Now tap in 11913 to the running machine, and collect a blade below.
Now use knife to cut the trampoline and collect a silver key.
Use silver key to open the cabinet on the right, collect a pliers from inside.
Remember the arrangement of those color ball.
Tap the snooker table, and imagine drawing line by following those color ball.
You will see 5,1,6 and 2.
So now use pliers to take off the dart board, there is a safe behind it.
Tap in 5162 to open the safe and collect a key.
Use the last key to open door.
Do you like this page ?
---
Please Select Levels:
Other Escape Game :
Game by Weiwei Huang
Game by Francesco Franchini
Game by 58works
Game by MPI Soft
Escape Game by Kaarel Kirsipuu
Game by noprops
Escape Game by Kristjan Luts
Game by Rustem Melnichenko
Game by Tasuku Kaimori
Game by Cybergate Technology Ltd.
Game by FreshGames, LLC
Game by Tedven
Game by Fireproof Games
Game by Mobest Media Ou
Others