Escape Room: Apartment 10 Level 14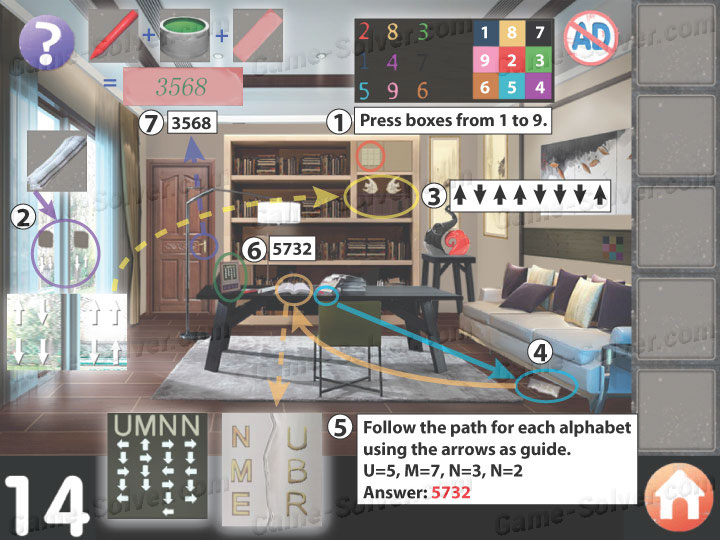 Escape Room: Apartment 10 Level 14
Escape Room: Apartment 10 Level 14 Walkthrough, Solutions, Cheats, Answers for iPhone, iPad, Android, Kindle, iPod Touch and other device by Weiwei Huang.
With the hint on right wall, open the top cabinet by tapping on the 9 boxes in sequence.
Use cloth to wipe glass on the left to reveal all 8 arrows.
With the hint from Step 2, open the box on cabinet by pressing the wing which represents the direction of arrow.
Get pincher from table and use it to obtain paper under the sofa.
Place paper on the book and compare it with the hint found on table for UMNN. Follow the direction of arrows for each alphabet, eg. U will spell out the digit 5. U=5, M=7, N=3, N=2. The answer is 5732.
Use the code 5732 to open case on the table.
Combine green substance with red pen to obtain green pen. Then use green pen on piece of note to reveal code: 3568. Use the code 3568 to open door for exit.
Do you like this page ?
---
Please Select Levels:
Other Escape Game :
Game by Weiwei Huang
Game by Francesco Franchini
Game by 58works
Game by MPI Soft
Escape Game by Kaarel Kirsipuu
Game by noprops
Escape Game by Kristjan Luts
Game by Rustem Melnichenko
Game by Tasuku Kaimori
Game by Cybergate Technology Ltd.
Game by FreshGames, LLC
Game by Tedven
Game by Fireproof Games
Game by Mobest Media Ou
Others