Escape Room: Apartment 10 Level 15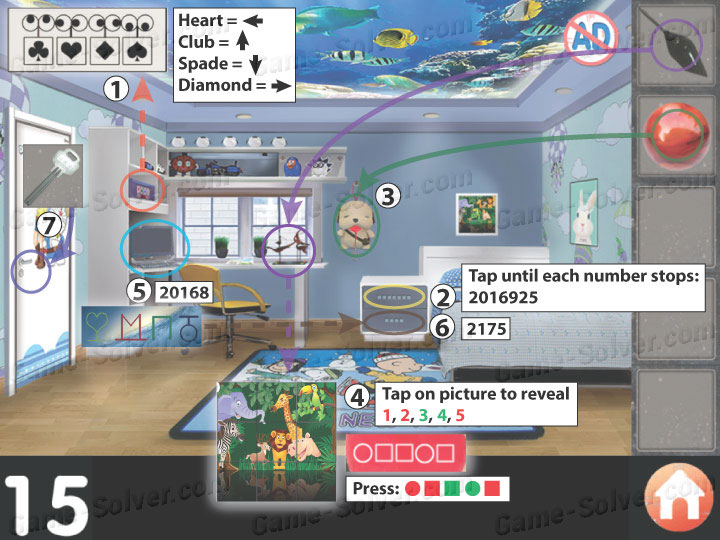 Escape Room: Apartment 10 Level 15
Escape Room: Apartment 10 Level 15 Walkthrough, Solutions, Cheats, Answers for iPhone, iPad, Android, Kindle, iPod Touch and other device by Weiwei Huang.
Look at the book on table nd notice the direction of eyes for each pattern. Use this hint to open box on top of computer: Heart Left, Club Up, Spade Down, Diamond Right.
To open the top drawer beside bed, tap on each button until the number stops: 2016925.
Place ball on the doll to obtain a note where there are 5 symbols.
Look at the picture and tap on the boxes to reveal: 1 Red, 2 Red, 3 Green, 4 Green, 5 Red. Combine it with the note and you will get Red Circle, Red Square, Green Square, Green Circle, Red Square. Place the bird head on the bird statue on table then press on the buttons in sequence to get a code.
Use the code obtained from Step 4: 20168 to key into the computer. The image displayed on screen reads 2175.
Use the code 2175 to open bottom drawer beside bed to obtain key.
Use the key to open door for exit.
Do you like this page ?
---
Please Select Levels:
Other Escape Game :
Game by Weiwei Huang
Game by Francesco Franchini
Game by 58works
Game by MPI Soft
Escape Game by Kaarel Kirsipuu
Game by noprops
Escape Game by Kristjan Luts
Game by Rustem Melnichenko
Game by Tasuku Kaimori
Game by Cybergate Technology Ltd.
Game by FreshGames, LLC
Game by Tedven
Game by Fireproof Games
Game by Mobest Media Ou
Others