Logo Quiz Ultimate Shops Answers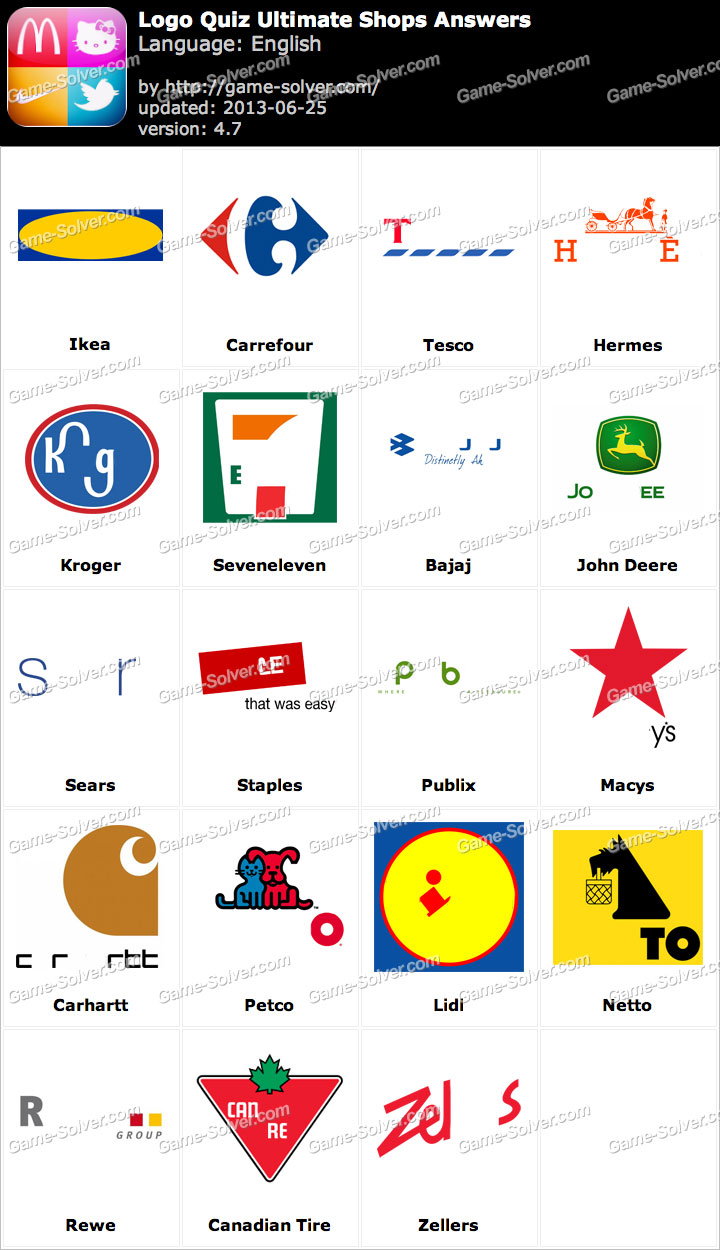 Logo Quiz Ultimate Shops Answers Word List
Logo Quiz Ultimate Shops Answers , Cheats, Solution with Word List and Logos for Android.
---
Ikea
Hints:
Privately held, international home products company that designs and sells ready-to-assemble furniture such as beds and desks, appliances and home accessories.
Founded in 1943 by 17-year-old Ingvar Kamprad in Sweden.
---
Carrefour
Hints:
It is an international hypermarket chain headquartered in Boulogne Billancourt, France, in Greater Paris.
The first store opened on 1 January 1958 in suburban Annecy near a crossroads.
---
Tesco
Hints:
It is a British multinational grocery and general merchandise retailer headquartered in Cheshunt, United Kingdom.
The company was founded in 1919 by Jack Cohen as a group of market stalls.
---
Hermes
Hints:
It is a French high fashion house established in 1837, today specializing in leather, lifestyle accessories, perfumery, luxury goods, and ready-to-wear.
The company licenses no products and keeps tight control over the design and manufacture of its vast inventory.
---
Kroger
Hints:
It is an American supermarket chain founded in Cincinnati, Ohio.
It is the country's largest grocery store chain and its second-largest grocery retailer by volume and second-place general retailer in the country, with Walmart being the largest.
---
Seveneleven
Hints:
The company, primarily operating as a franchise, is the world's largest operator, franchisor and licensor of convenience stores, with more than 46,000 outlets, surpassing the previous record-holder McDonald's Corporation in 2007 by approximately 1,000 retail stores.
It has been consistently ranked in Entrepreneur's Franchise 500, most recently being selected as the No.1 overall franchise.
---
Bajaj
Hints:
It is one of the oldest (1926) & largest conglomerates based in Mumbai, Maharashtra.
The group comprises 34 companies & its flagship motorized vehicle-producing company is ranked as the world's fourth largest two- and three-wheeler manufacturer.
---
John Deere
Hints:
It is an American corporation based in Moline, Illinois, and the leading manufacturer of agricultural machinery in the world.
The company is also a leading manufacturer of construction equipment and forestry equipment, as well as a supplier of diesel engines and drivetrains (axles, transmissions, gearboxes) used in heavy equipment.
---
Sears
Hints:
It is an American chain of department stores, which was founded in the late 19th century.
From its mail order beginnings, the company grew to become the largest retailer in the United States by the mid-20th century, and its catalogs became famous.
---
Staples
Hints:
The company opened its first store in Brighton, Massachusetts in 1986.
It sells supplies, office machines, promotional products, furniture, technology and business services both in stores and online.
---
Publix
Hints:
Its slogan is Where Shopping is a Pleasure.
The manufacturing facilities produce its dairy, deli, bakery, and other food products.
---
Macys
Hints:
It is a U.S. chain of mid- to high-range department stores.
The company operates 800 stores in the United States as of June 7, 2012. It also has eSpot ZoomShops kiosks in over 300 store locations selling consumer electronics.
---
Carhartt
Hints:
It is a U.S.-based clothing company founded in 1889.
It was originally founded to make work clothing for railroad workers.
---
Petco
Hints:
Founded in 1965 and incorporated in Delaware, it is headquartered in San Diego, California
Its mascots are Red Ruff (dog) and Blue Mews (cat), who both appear on the corporate logo.
---
Lidl
Hints:
It is a discount supermarket chain based in Germany that operates over 10,000 stores across Europe.
It belongs to the holding company Schwarz Gruppe, which also owns the store chains Handelshof and hypermarket Kaufland
---
Netto
Hints:
It is a Danish discount supermarket operating in several European countries
2009 Brand celebrate its 28th birthday with special offers in store in the weeks number 16, 17 and 18 every year.
---
Rewe
Hints:
It is a diversified retail and tourism group based in Germany. Its current turnover is around 50.91 billion euros. It operates in 14 European countries and employs over 325,000 people in its trading and travel divisions.
Founded in 1927
---
Canadian Tire
Hints:
On September 15, 1922, John William Billes and Alfred Jackson Billes invested their combined savings of $1,800 in The Hamilton Tire and Garage Ltd (established in 1909 as the Hamilton Garage and Rubber Company) in Toronto
he most recognized of these are Mastercraft, SuperCycle (bicycles), BluePlanet (eco-friendly household cleaners, CFL bulbs and other innovative green items) and Motomaster (tires, batteries and other automotive goods).
---
Zellers
Hints:
It is Canada's second-largest chain of mass merchandise discount stores, with locations in communities across Canada
A subsidiary of the Hudson's Bay Company (HBC), it has, as of August 1, 2012, 216 locations across the country.
Do you like this page ?
---
Please Select Levels:
Original Logo Quiz Answers
Bubble Quiz Game
Others