You Must Escape Level 12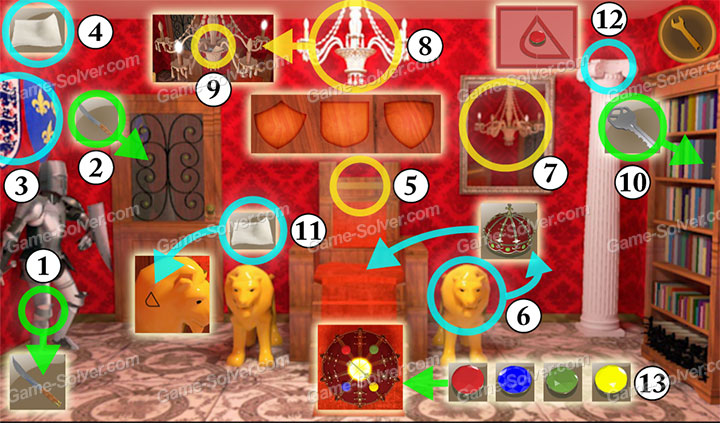 You Must Escape Level 12
You Must Escape Level 12 Walkthrough, Solutions, Cheats, Answers for iPhone, iPad, Android, Kindle, iPod Touch and other device by Mobest Media
Collect a small knife below the knight.
Use the small knife to collect a green color gem from the door.
Now check 3 shields on the wall, collect a white color cloth from the left one and remember the arrangement of both shields.
Now tap the chair in the middle, arrange the puzzle like those shield and collect a yellow color gem.
Now check behind the lion statue on the right, collet the crown and place it on the chair.
Now check the picture on the wall, it is the clue for next.
Now tap the lamp, tap the second and last light bulb.
Collect a key from middle of the lamp.
Check the bookshelf and use the silver key to unlock the small box, collect a blue color gem from inside.
Now use the white color cloth to wipe the lion statue on the left.
You can reveal a clue from there.
Now tap the pillar on the right, play the puzzle and collect a red color gem.
Now place all 4 gems on the crown, collect the key and open door.
Do you like this page ?
---
Please Select Levels:
Other Escape Game :
Game by Weiwei Huang
Game by Francesco Franchini
Game by 58works
KALAQULI R - room escape game
Game by MPI Soft
100 Doors Parallel Worlds
Supernatural: Evil Receptacle
Escape Game by Kaarel Kirsipuu
Game by noprops
KURUMA - room escape game
SMALL ROOM - room escape game
3 ROOMS ESCAPE - room escape game
Escape Game by Kristjan Luts
Escape the Bedroom
Sitting Room Escape
Game by Rustem Melnichenko
Game by Tasuku Kaimori
Game by Cybergate Technology Ltd.
Game by FreshGames, LLC
Game by Tedven
Game by Fireproof Games
Game by Mobest Media Ou
Others