You Must Escape Level 16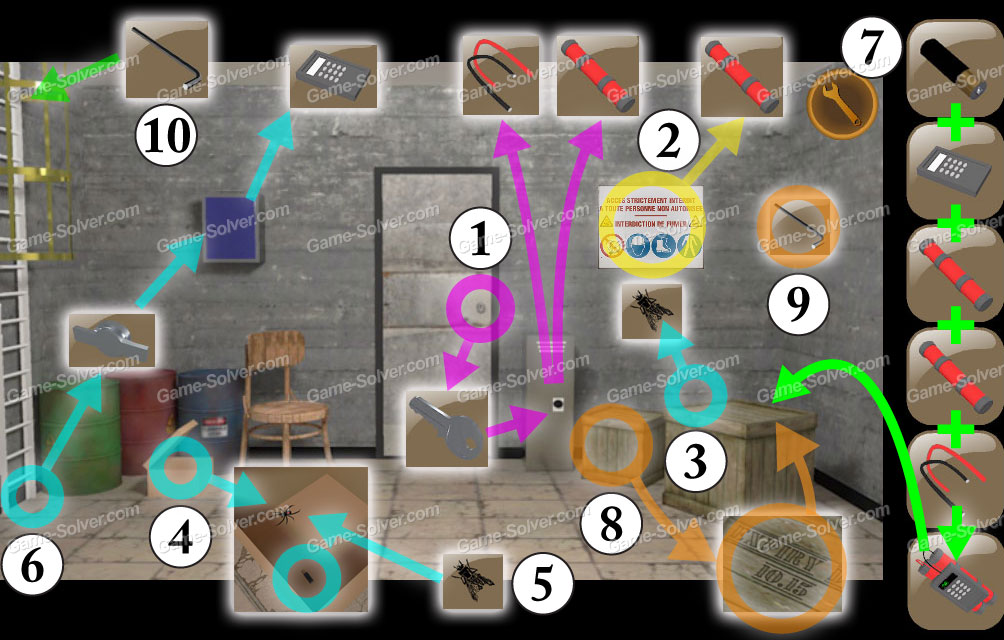 You Must Escape Level 16
You Must Escape Level 16 Walkthrough, Solutions, Cheats, Answers for iPhone, iPad, Android, Kindle, iPod Touch and other device by Mobest Media
Tap the door and collect a key.
Use that key to unlock the cabinet on the right hand side.
Collect 2 wires and a red color object.
Now play the puzzle on the right, collect another red color object too.
Tap those boxes and reveal another empty place.
Tap that fly and collect it.
Now tap the box on the left, put the fly to the right place and let the spider stay away from the battery.
Now collect the battery.
Check below the ladder on the left hand side.
Collect a handle and replace it on the blue color locker.
Open the blue color locker and collect a remote.
Now combine battery, remote, 2 red color objects, wire and it will become a bomb.
Place the bomb to where you found that fly just now.
Now tap those boxes and you can reveal a group of numbers, which is "1015".
Tap 1015 into the bomb and it will explode.
After it explode, collect the tool.
Now climb up the ladder on the left, use that tool to open the cover and escape.
Do you like this page ?
---
Please Select Levels:
Other Escape Game :
Game by Weiwei Huang
Game by Francesco Franchini
Game by 58works
KALAQULI R - room escape game
Game by MPI Soft
100 Doors Parallel Worlds
Supernatural: Evil Receptacle
Escape Game by Kaarel Kirsipuu
Game by noprops
KURUMA - room escape game
SMALL ROOM - room escape game
3 ROOMS ESCAPE - room escape game
Escape Game by Kristjan Luts
Escape the Bedroom
Sitting Room Escape
Game by Rustem Melnichenko
Game by Tasuku Kaimori
Game by Cybergate Technology Ltd.
Game by FreshGames, LLC
Game by Tedven
Game by Fireproof Games
Game by Mobest Media Ou
Others