Doors and Rooms 7-2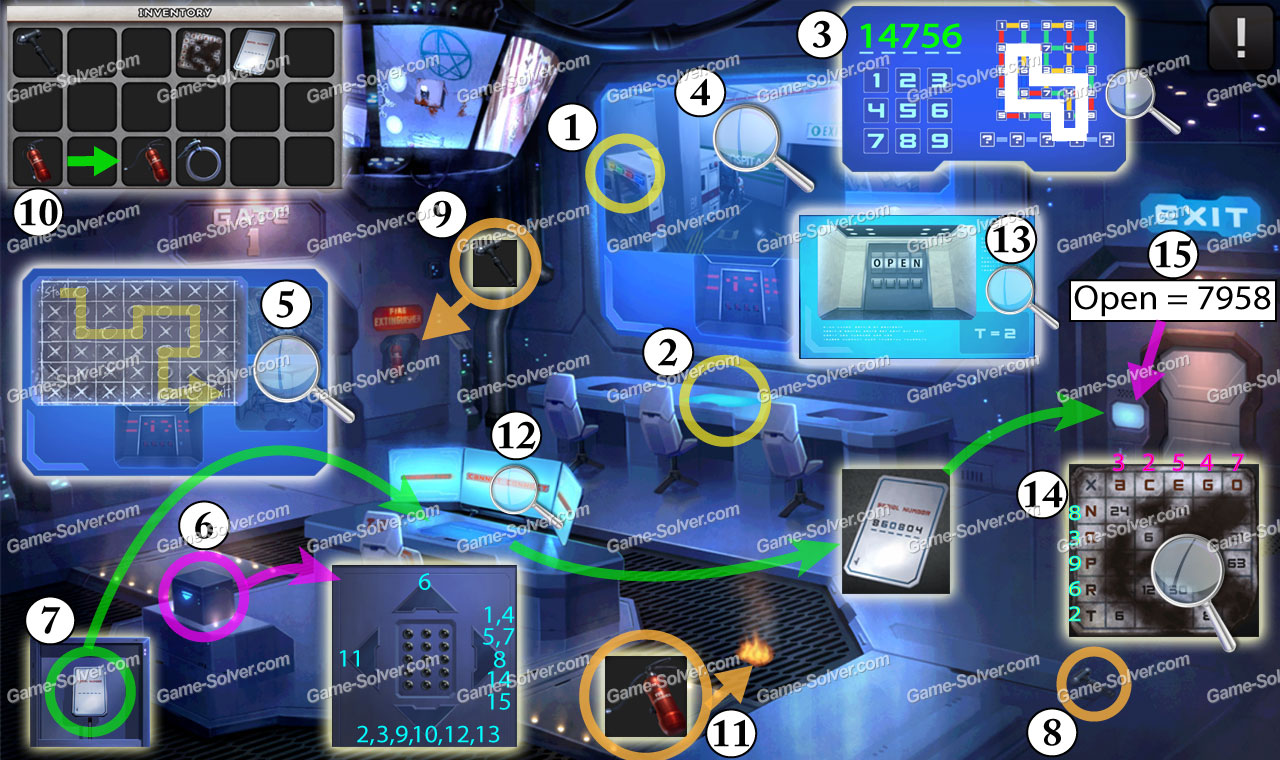 Doors and Rooms 7-2
Doors and Rooms 7-2 Chapter 7 Gateway Level 7-2 Walkthrough, Cheats, Walkthrough, Answers for iPhone, iPad, Android App.
Look at the screen, you can see there is 4 lights with different color.
Now tap the keypad on the table.
Got a small graph on the right, you can find it actually only have few number is link with yellow, green, red, blue.
So you can get 14756 and tap into it.
Now the screen changed, showing a photo with the way from start to exit.
Now tap the small box on the bottom left, use the hint from the photo just now.
Tap by following the direction from the photo.
Right, Down, Down, Right, Right, Up, Right, Right, Down, Down, Left, Down, Down, Right, Right.
Collect a card without number and insert to the keypad at below, and withdraw it after verified.
That will be 6 numbers on the card, tap into the keypad beside the door on the right for verify.
Now collect a hammer on bottom right, and break the glass that covering fire extinguisher.
Now dismantle the fire extinguisher, and use it to extinguish the fire on the floor.
Collect a piece of burned paper from the burned place.
Now check the small monitor, we can get some hints from there.
OPEN, we need this to open door. And T=2.
So now Check the paper, X = multiply. So A x T(2) = 6, means A = 3.
A(3) x N = 24, means N = 8.
E x N(8) = 40, means E = 5.
R x E(5) = 30, means R = 6.
C x R(6) = 12, means C = 2.
Q x C(2) = 6, means Q = 3.
O x Q(3) = 21, means O = 7.
P x O(7) = 63, means P = 9.
So answers out, O=7, P=9, E=5, N=8.
Tap in 7985 into the keypad beside the door and open door.
Do you like this page ?
---
Please Select Levels:
Doors and Rooms Walkthrough