Can You Escape 2 Level 4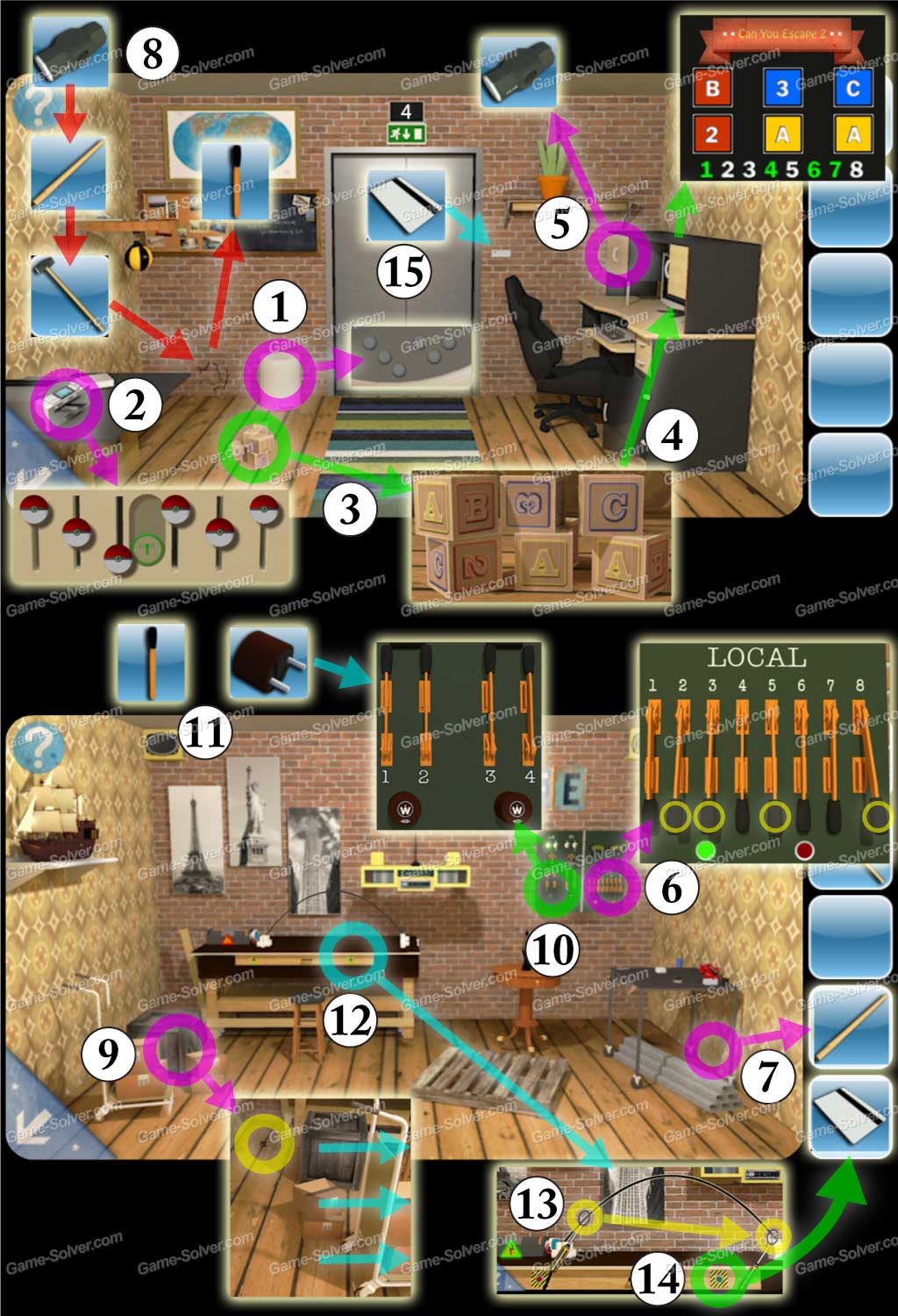 Can You Escape 2 Level 4
Can You Escape 2 Level 4 Walkthrough, Solutions, Cheats, Answers for iPhone, iPad, Android, Kindle, iPod Touch and other device by Kaarel Kirsipuu
Tap the dustbin beside the door and open it.
Reveal the hints from inside and remember it.
Now tap the machine on the left and set those button like the hints showing just now.
Now tap those cubes on the floor and remember those alphabets and numbers.
Tap the computer on the right hand side and tap in those alphabets and numbers just now.
Now a group of numbers will appear, remember 2358.
Now tap the locker on the left and collect a part of hammer from there.
Now move to another side of the room, tap the power panel on the right.
Pull the lever of number 2,3,5 and 8.
Light will turn green if you done correctly.
Now check below the table on the right and collect a wooden stick from there.
Now back to the main room, combine the wooden stick and the hammer part.
Use the hammer to break the wall on the left and collect a lever from there.
Now move to another room, check the trolley area on the left.
Move everything towards right and collect a plug from there.
Now tap the power panel on the left, place the power plug and the lever.
Tap the working desk and play the mini game.
Open the drawer and collect a card key from there.
Use the card key to open door.
Do you like this page ?
---
Please Select Levels:
Other Escape Game :
Game by Weiwei Huang
Game by Francesco Franchini
Game by 58works
Game by MPI Soft
Escape Game by Kaarel Kirsipuu
Game by noprops
Escape Game by Kristjan Luts
Game by Rustem Melnichenko
Game by Tasuku Kaimori
Game by Cybergate Technology Ltd.
Game by FreshGames, LLC
Game by Tedven
Game by Fireproof Games
Game by Mobest Media Ou
Others