Can You Escape 2 Level 7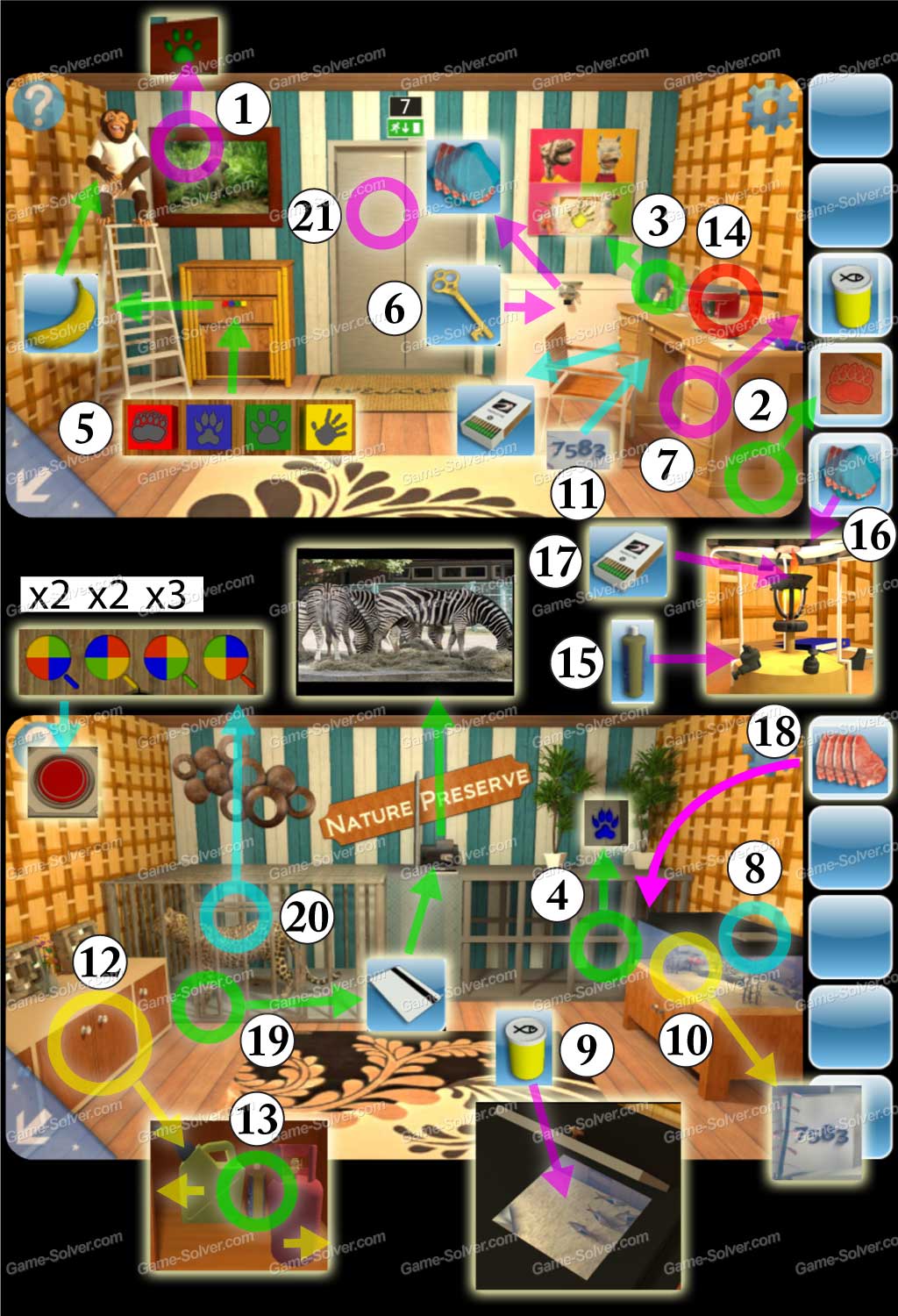 Can You Escape 2 Level 7
Can You Escape 2 Level 7 Walkthrough, Solutions, Cheats, Answers for iPhone, iPad, Android, Kindle, iPod Touch and other device by Kaarel Kirsipuu
Check fingerprints around at different place.
Picture behind the monkey, beside the desk on te right, on top of the desk and inside the cage on the right in another room.
Now set correct fingerprints into the lock of the cabinet on the left.
Collect a banana and pass it to the monkey, collect a key from the monkey.
Now use that key to open the freezer and collect a frozen meat.
Now check the desk on the right, open the middle drawer and collect a can of fish feed from there.
Move to another side, explore the aquarium.
Pour the fish feed into the aquarium and reveal a group of numbers "7583".
Back to the other side, tap in 7583 into the desk on the right and collect a box of matches from the drawer.
Now back to the side just now, check the cabinet on the left.
Move both object away and you will see a bottle of gas, collect it.
Now tap the gas stove on top of the desk.
Fill the gas, zoom out the gas stove and place the frozen meat.
Zoom in the gas stove again, use matches to light it up.
Zoom out and collect the meat.
Move to another side, place the meat into the bowl in the cage on the right hand side.
Now the leopard will move towards right, collect a card from inside.
Use that card on the machine on top of the cage and play the puzzle.
Check the cage on the left hand side again, set to correct color and open door.
Tap first button 2 times, second button 2 times and third button 3 times.
Tap the red button and open door.
Do you like this page ?
---
Please Select Levels:
Other Escape Game :
Game by Weiwei Huang
Game by Francesco Franchini
Game by 58works
Game by MPI Soft
Escape Game by Kaarel Kirsipuu
Game by noprops
Escape Game by Kristjan Luts
Game by Rustem Melnichenko
Game by Tasuku Kaimori
Game by Cybergate Technology Ltd.
Game by FreshGames, LLC
Game by Tedven
Game by Fireproof Games
Game by Mobest Media Ou
Others