Can You Escape 2 Level 8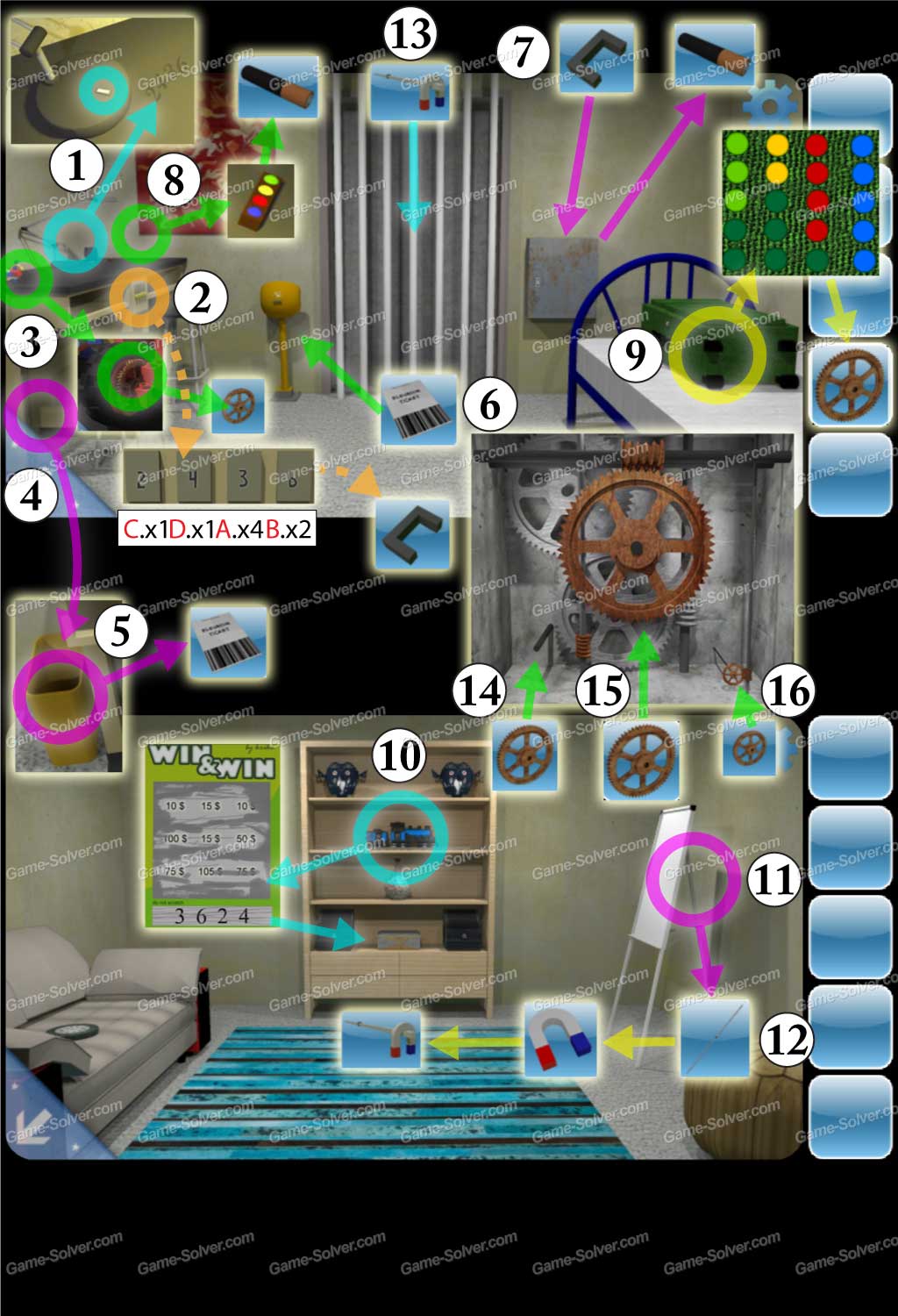 Can You Escape 2 Level 8
Can You Escape 2 Level 8 Walkthrough, Solutions, Cheats, Answers for iPhone, iPad, Android, Kindle, iPod Touch and other device by Kaarel Kirsipuu
Tap the table on the left, turn on the table lamp and reveal the passcode 2436.
Tap the drawer in the middle and tap the passcode by following the answers in the picture.
Tap 3rd button 4 times, 4th button 2 times, 1st button 1 time and 2nd button 1 time.
Collect a handle from inside.
Tap the toys on top of the table, collect a cog from the toy car.
Now tap the trash bin on the left, collect a ticket from inside and insert it into the machine beside the door.
Now use the handle to open the panel on the right.
Collect a battery from inside and insert it into the toy on the table.
Tap the light and remember how many times it blinking on each color.
Now tap the luggage on the right, tap and set correct number for each color.
Collect a cog from inside.
Now move to another room, check the shelf and explore the paper.
Tap and scratch it to reveal the code 3624.
Tap in 3624 to the box below and collect a magnet from there.
Now tap the whiteboard on the right, collect a rod from there.
Combine the rod with magnet and move to the main room.
Now use the magnet to collect the last cog at outside of the gate.
Open the panel, replace 3 cogs and the gate will open.
Do you like this page ?
---
Please Select Levels:
Other Escape Game :
Game by Weiwei Huang
Game by Francesco Franchini
Game by 58works
Game by MPI Soft
Escape Game by Kaarel Kirsipuu
Game by noprops
Escape Game by Kristjan Luts
Game by Rustem Melnichenko
Game by Tasuku Kaimori
Game by Cybergate Technology Ltd.
Game by FreshGames, LLC
Game by Tedven
Game by Fireproof Games
Game by Mobest Media Ou
Others