Can You Escape 2 Level 6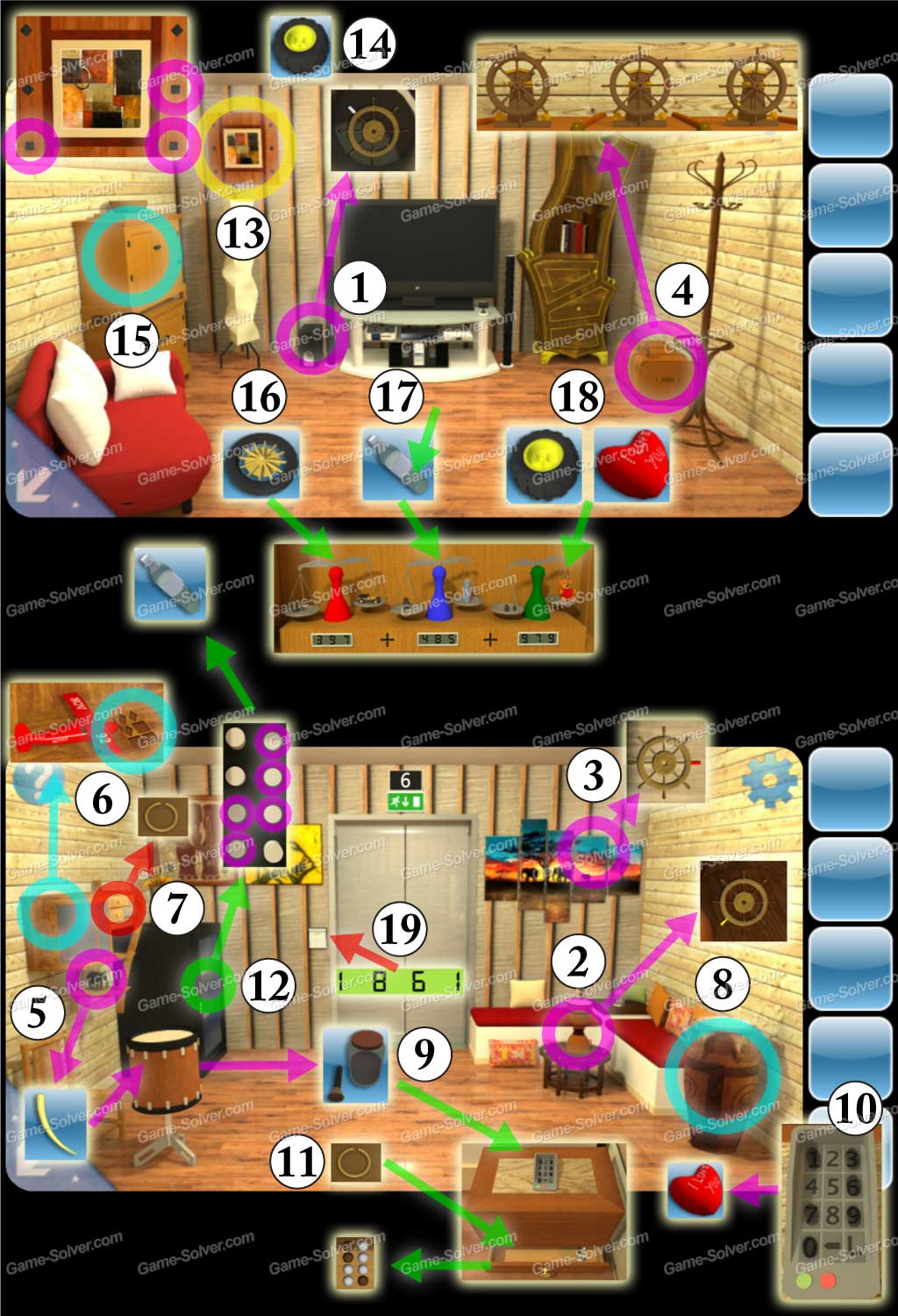 Can You Escape 2 Level 6
Can You Escape 2 Level 6 Walkthrough, Solutions, Cheats, Answers for iPhone, iPad, Android, Kindle, iPod Touch and other device by Kaarel Kirsipuu
Move to another room.
Check the speaker beside the television and reveal the hints.
Now back to the main room, check the small table on the right and picture on the wall.
You will find out which direction it is facing for those 3 colors.
Now back to another side, tap the chest and turn both wheel to correct position by following the hints just now.
Collect a toy car wheel from the chest.
Now back to the main room, check the shelf on the left.
Collect the tooth from elephant toy and use it to open the drum.
Collect a set of tools for fingerprint.
Now check the shelf again, open up the locker and move the toy plane.
Reveal the hints and remember it.
Open and check the drawer on the shelf, collect a ring from there.
Now tap and move the drum on the right, reveal a box.
Tap the keypad on top of the box, use the fingerprint tools on it and reveal the answers.
Tap on those numbers with fingerprints and collect love shape toy.
Now place the ring to the drawer of the box, open the drawer and reveal the hints.
Now tap the refrigerator on the left, tap in correct passcode and collect a bottle of water.
Now move to another room, check the frame on the left.
Hints from the toy plane just now, tap and set to correct shapes around it.
Collect another toy wheel from there.
Now tap the cabinet on the left and open it.
Place the old toy tire on the left.
Place water in the middle.
Place another toy tire and the heart shape toy on the right.
Numbers appear after you place both correctly.
Add those numbers and you will get 1861.
So move to the main door, tap in 1861 and open door.
Do you like this page ?
---
Please Select Levels:
Other Escape Game :
Game by Weiwei Huang
Game by Francesco Franchini
Game by 58works
Game by MPI Soft
Escape Game by Kaarel Kirsipuu
Game by noprops
Escape Game by Kristjan Luts
Game by Rustem Melnichenko
Game by Tasuku Kaimori
Game by Cybergate Technology Ltd.
Game by FreshGames, LLC
Game by Tedven
Game by Fireproof Games
Game by Mobest Media Ou
Others