Logo Quiz Cars Answers Level 3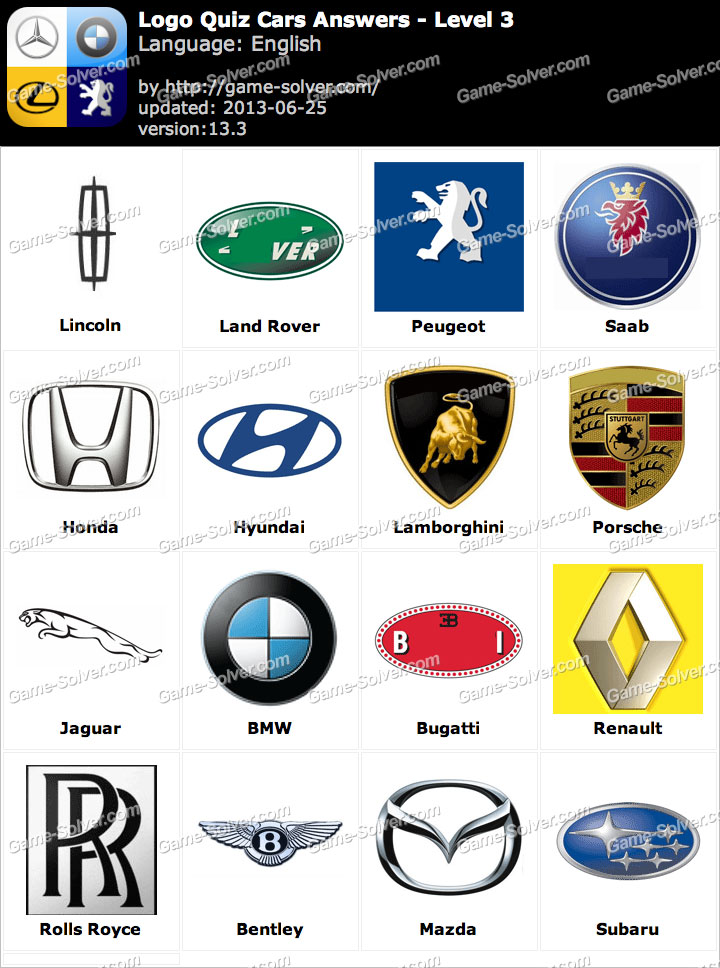 Logo Quiz Cars Answers Level 3 Word List
Logo Quiz Cars Answers Level 3 Answers, Cheats, Solution with Word List and Logos for Android.
---
Lincoln
Hints:
It is an American luxury vehicle brand of the Ford Motor Company.
It has a long history of providing official state limousines for the U.S. President.
---
Land Rover
Hints:
It is a British car manufacturer with its headquarters in Gaydon, Warwickshire, United Kingdom which specialises in four-wheel-drive vehicles.
It is the second oldest four-wheel-drive car brand in the world (after Jeep).
---
Peugeot
Hints:
It is a major French car brand, the second largest carmaker based in Europe.
The company produced its first automobile in 1891.
---
Saab
Saab Automobile AB
Saab Automobile
Hints:
It is a Swedish car manufacturer.
A common feature of company's car types was the use of the number 9 in the model numbers.
---
Honda
Hints:
It is a Japanese public multinational corporation primarily known as a manufacturer of automobiles and motorcycles.
It was the first Japanese automobile manufacturer to release a dedicated luxury brand, Acura, in 1986.
---
Hyundai
Hints:
It was a multinational conglomerate company headquartered in Seoul and one of the largest South Korean chaebol.
It was founded by Chung Ju-yung in 1947 as a construction firm and Chung was directly in control of the company until his death in 2001.
---
Lamborghini
Hints:
It is an Italian car manufacturer.
The company's first models were released in the mid-1960s, and were noted for their refinement, power and comfort.
---
Porsche
Hints:
It is a German holding company with investments in the automotive industry.
It is the most successful brand in motorsport, scoring a total of more than 28,000 victories, including a record 16 constructor wins at the 24 Hours of Le Mans.
---
Jaguar
Hints:
It is a British luxury and sports car manufacturer, headquartered in Whitley, Coventry, England.
It was founded as the Swallow Sidecar Company by Sir William Lyons in 1922, originally making motorcycle sidecars before developing passenger cars.
---
BMW
Hints:
It is a German automobile, motorcycle and engine manufacturing company founded in 1917.
It also owns and produces the Mini marque, and is the parent company of Rolls-Royce Motor Cars.
---
Bugatti
Hints:
It is a car company that was established in 1909 in Molsheim, France
The company was famous for manufacturing some of the fastest cars of the time, and later went on to make airplane parts.
---
Renault
Hints:
It is a French automaker producing cars, vans, and in the past, autorail vehicles, trucks, tractors, vans, tanks, and also buses/coaches.
The company is known for its role in motor sport, and its success over the years in rallying and Formula 1.
---
Rolls Royce
Hints:
It is a British multinational power systems company headquartered in the City of Westminster, London, United Kingdom.
It is the worldís second-largest maker of aircraft engines (behind General Electric), and also has major businesses in the marine propulsion and energy sectors.
---
Bentley
Hints:
It is a British manufacturer of luxury automobiles founded on 18 January 1919.
It had been previously known for his range of rotary aero-engines in World War I.
---
Mazda
Hints:
It is a Japanese automotive manufacturer based in Fuchu, Aki District, Hiroshima Prefecture, Japan.
It has developed its business by providing Zoom-Zoom cars that are fun to drive.
---
Subaru
Hints:
It is the automobile manufacturing division of Japanese transportation conglomerate Fuji Heavy Industries (FHI).
They offer many turbocharged versions of their passenger cars, such as the Impreza WRX.
Do you like this page ?
---
Please Select Levels:
Original Logo Quiz Answers
Bubble Quiz Game
Others