Let's Escape Walkthrough
Let's Escape 1-12 Levels Walkthrough, Solutions, Cheats, Answers for iPhone, iPad, Android, Kindle, iPod Touch and other device by Mobest Media
Let's Escape, brought to us by famous escape game developer Mobest Media!
With 8 free levels you might feel that's not enough, support them and purchase for 4 more levels! Smooth gameplay, good theme, fun puzzle!
Let's Escape are now available in Google Play, iTune Store and Amazon! Download and have fun now!
Let's Escape Walkthrough proudly present by Game-Solver.com.
Download Let's Escape
iPhone | iPad | Android | Kindle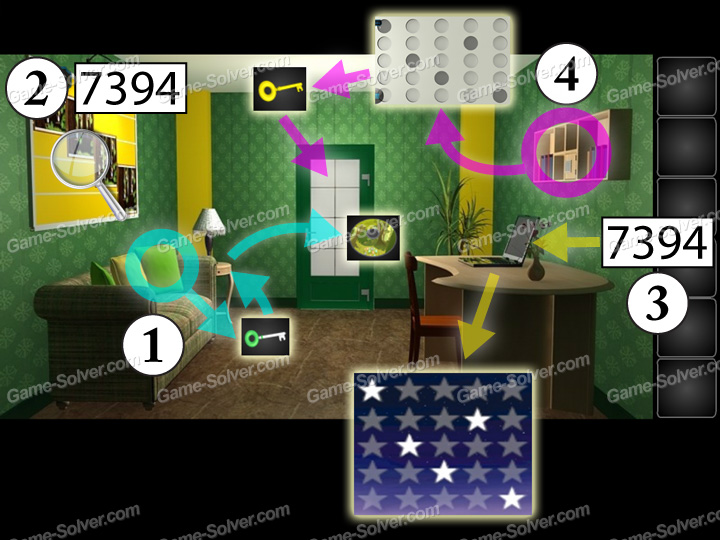 Let's Escape Level 1
Let's Escape Level 1 Walkthrough, Solutions, Cheats, Answers for iPhone, iPad, Android, Kindle, iPod Touch and other device by Mobest Media
Collect the green color key from the sofa.
Use the green color key to open the drawer below the lamp.
Collect a disc from inside.
Insert the disc into the laptop.
Now tap and understand the pictures on the wall.
Count the numbers of those birds and you will get 7394.
Now tap the laptop and type in 7394 to reveal another hint.
Tap the book shelf, tap like what the hint are showing.
Answers in the picture.
Collect the yellow key and open door.
Do you like this page ?
---
Other Escape Game :
Game by Weiwei Huang
Game by Francesco Franchini
Game by 58works
KALAQULI R - room escape game
Game by MPI Soft
100 Doors Parallel Worlds
Supernatural: Evil Receptacle
Escape Game by Kaarel Kirsipuu
Game by noprops
KURUMA - room escape game
SMALL ROOM - room escape game
3 ROOMS ESCAPE - room escape game
Escape Game by Kristjan Luts
Escape the Bedroom
Sitting Room Escape
Game by Rustem Melnichenko
Game by Tasuku Kaimori
Game by Cybergate Technology Ltd.
Game by FreshGames, LLC
Game by Tedven
Game by Fireproof Games
Game by Mobest Media Ou
Others