The Room Walkthrough
The Room Chapter 1-5 Walkthrough, Solutions, Cheats, Answers for iPhone, iPad, Android, Kindle, iPod Touch and other device by Fireproof Games
The Room, the most stunning 3D graphic in so many escape game we played before! Brought to us by Fireproof Games.
The Room is now top app in so many country and awarded by many multiple organization! The room come with 5 chapters in game now, from chapter 1 to the newest chapter "Epilogue".
The stunning 3D graphic and sound effect make me really can't wait for more new level! And the puzzle is really good, you can't believe that everything is happening in few small boxes!
Download it and enjoy the best 3D escape game now! Walkthrough are proudly presents by Game-Solver.com.
Download The Room
iPhone | iPad | Android | Kindle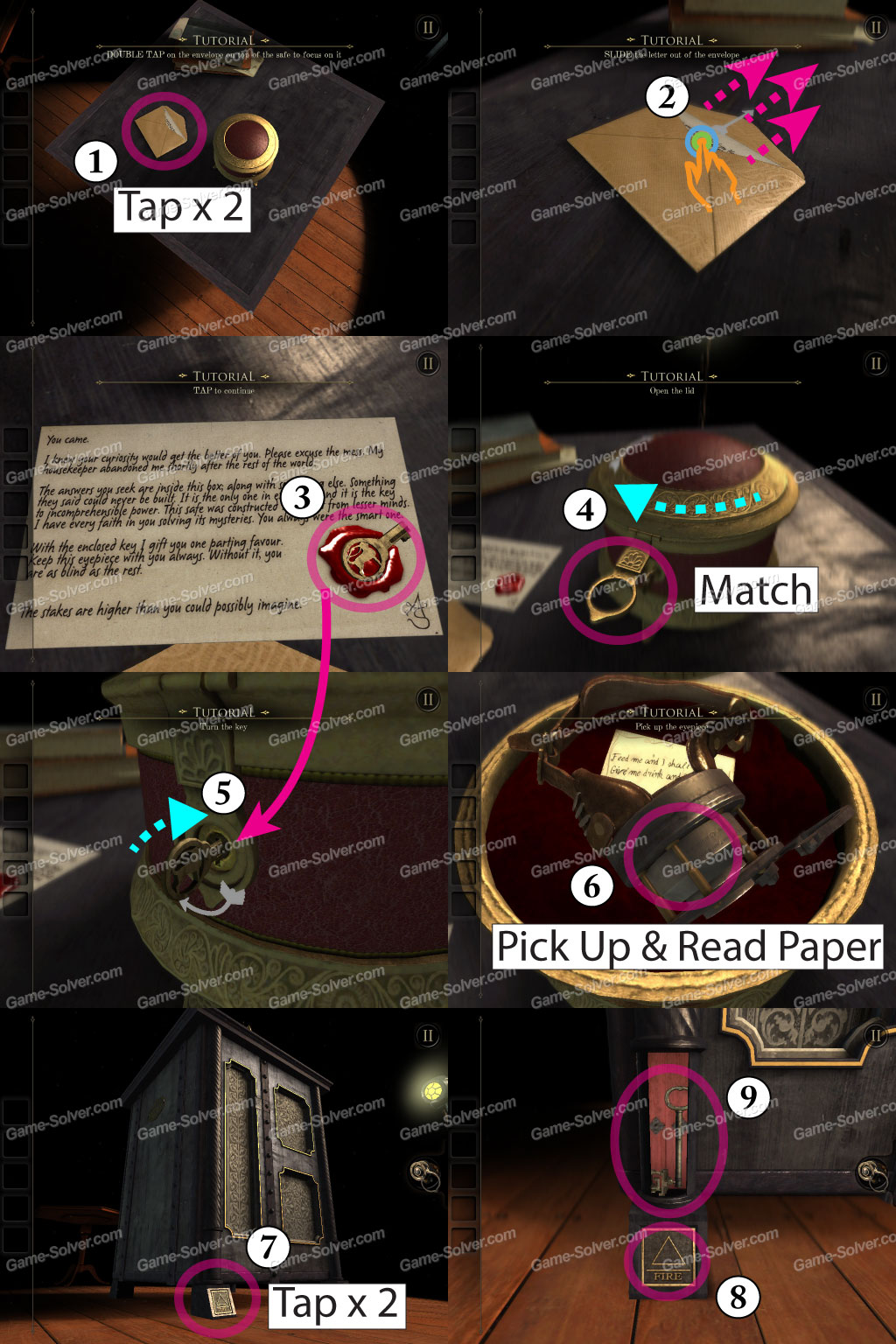 The Room Walkthrough Chapter 1 a
The Room Walkthrough Chapter 1 a Walkthrough, Solutions, Cheats, Answers for iPhone, iPad, Android, Kindle, iPod Touch and other device by Fireproof Games
Check the envelope and collect a key from inside.
Spin the treasure box to match the lock.
Now insert key and unlock the box.
Pick up the eye piece and read the paper.
Now zoom out and check one of the cabinet's leg.
Tap it and collect a key from inside.
Do you like this page ?
---
Other Escape Game :
Game by Weiwei Huang
Game by Francesco Franchini
Game by 58works
KALAQULI R - room escape game
Game by MPI Soft
100 Doors Parallel Worlds
Supernatural: Evil Receptacle
Escape Game by Kaarel Kirsipuu
Game by noprops
KURUMA - room escape game
SMALL ROOM - room escape game
3 ROOMS ESCAPE - room escape game
Escape Game by Kristjan Luts
Escape the Bedroom
Sitting Room Escape
Game by Rustem Melnichenko
Game by Tasuku Kaimori
Game by Cybergate Technology Ltd.
Game by FreshGames, LLC
Game by Tedven
Game by Fireproof Games
Game by Mobest Media Ou
Others