Cubic Room 3 Walkthrough
Cubic Room 3 Walkthrough, Answers, Cheats, Solution with Pictures for iPhone, iPad, iPod, Android.
"When you woke up , you found yourself stuck in a strange room. Can you find a way out and leave?"
Another great escape game brought to you by Tasuku Ka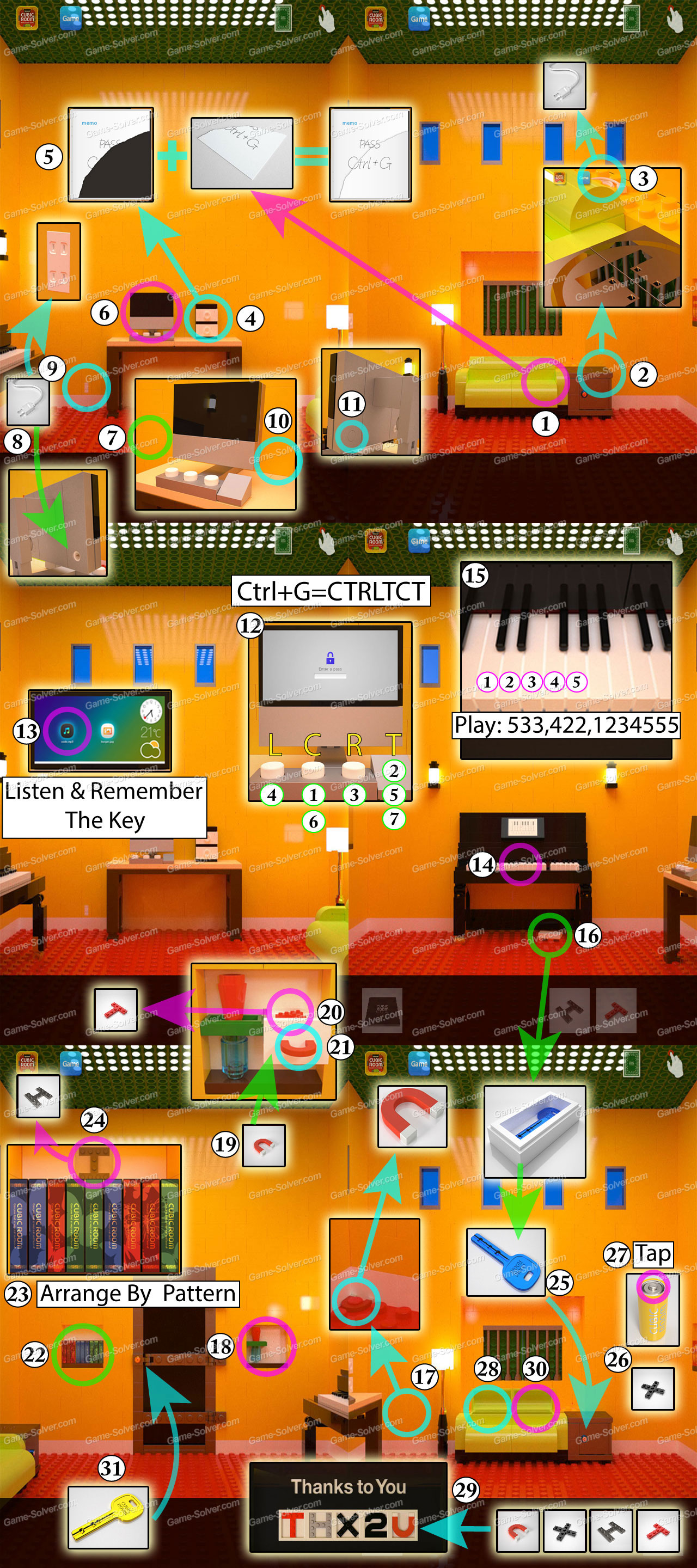 Cubic Room 3 Walkthrough Chapter 1
Cubic Room 3 Walkthrough Chapter 1 Walkthrough, Answers, Cheats, Solution with Pictures for iPhone, iPad, iPod, Android.
Collect a piece of paper from the chair.
Now tap the small cabinet and check behind the chair, collect a wire from there.
Now collect an instruction manual from the desktop chest beside the computer and read it.
Replace the small paper into the last page of the manual, and remember the Ctrl+G.
Now explore and tap the left side of the computer.
Insert wire into the computer.
Check the power point beside the table and insert the plug into it.
Now explore and tap the right side of the computer, tap the power button to turn it on.
The keypad only have 3 button and a touch pad, it is Left, Center, Right and Touch Pad(all in the manual).
Ctrl+G, if you look carefully it is actually CTRL T C T.
So now you have to tap by following C,T,R,L,T,C,T.
After you unlock the screen, you can see there is 2 icon on the computer screen.
Tap the music button and play button to listen the music, remember the key.
Now move to the piano side, replay the music by playing the piano. (Answers in the picture)
After you play the music correctly, a box will drop below the piano.
Now collect the box and open it, collect a blue key from inside.
Now move to the chair side, check on the left beside the lamp.
Collect a magnet from the corner.
Now check the shelf on the right side of the door, place magnet on the drawer and open to collect a 'T' alphabet.
After that remember to collect the magnet back, it need to be use later.
Now check the shelf on the left side of the door, rearrange the book by following the pattern (answer in the picture). And collect a 'H' alphabet.
Now use the blue key open the small cabinet beside the chair and collect a battery and a 'X' alphabet.
Now explore the battery and the top of the battery, you will hear a sound.
The chair will open, explore it and replace both alphabet become 'THX2U'.
Another side will open after you done, collect another key from inside.
Use the last key to open the door.
Do you like this page ?
---
Other Escape Game :
Game by Weiwei Huang
Game by Francesco Franchini
Game by 58works
KALAQULI R - room escape game
Game by MPI Soft
100 Doors Parallel Worlds
Supernatural: Evil Receptacle
Escape Game by Kaarel Kirsipuu
Game by noprops
KURUMA - room escape game
SMALL ROOM - room escape game
3 ROOMS ESCAPE - room escape game
Escape Game by Kristjan Luts
Escape the Bedroom
Sitting Room Escape
Game by Rustem Melnichenko
Game by Tasuku Kaimori
Game by Cybergate Technology Ltd.
Game by FreshGames, LLC
Game by Tedven
Game by Fireproof Games
Game by Mobest Media Ou
Others