Logo Quiz by Bubble Answers
Logo Quiz by Bubble Answers, Solution, Cheat, Walkthrough for Level 1-18 can be used on Android.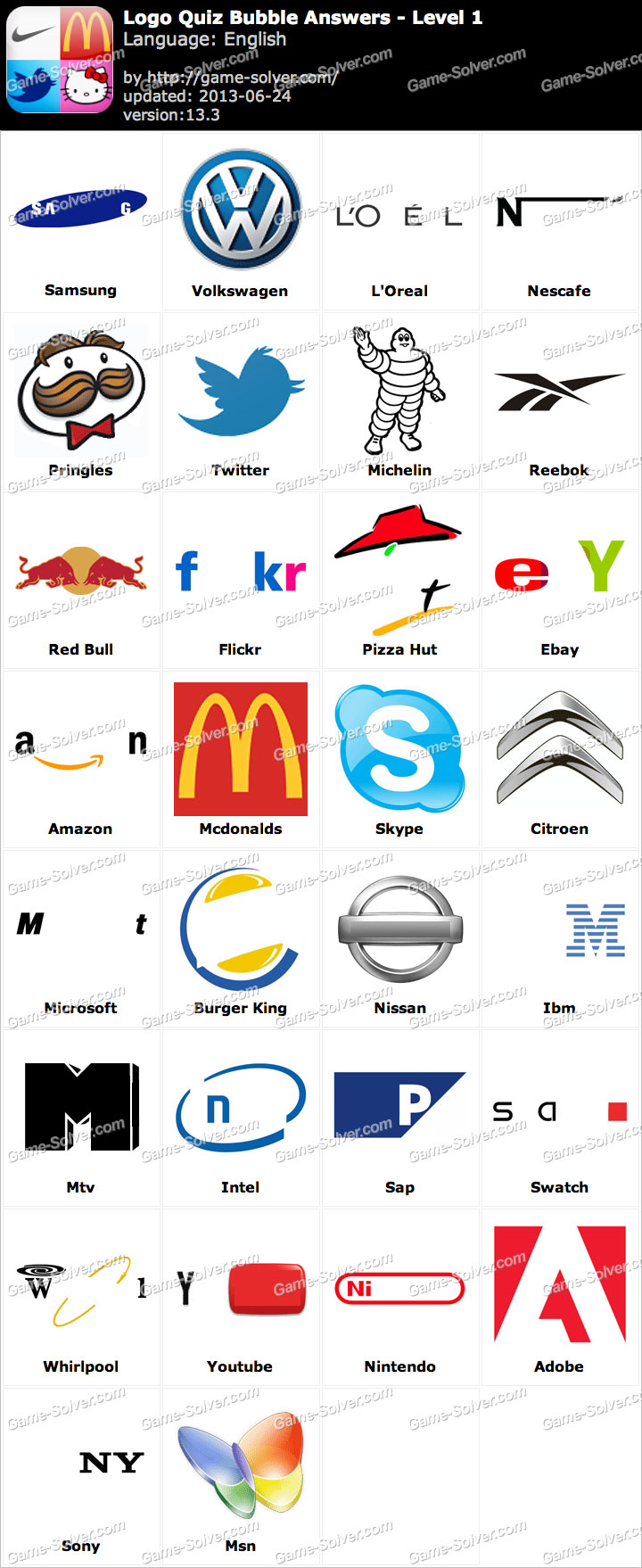 Logo Quiz by Bubble Answers Level 1 Word List
Logo Quiz by Bubble Answers Level 1 Answers, Cheats, Solution with Word List and Logos for Android.
---
Samsung
Hints:
South Korean multinational conglomerate company.
The company has ahpowerful influence on South Korea's economic development, politics, media and culture, and has been a major driving force behind the 'Miracle on the Han River'
---
Volkswagen
Hints:
German automobile manufacturer.
Now also owns the Audi, Bentley, Bugatti, Ducati, Lamborghini, SEAT, 49.9% of Porsche, Giugiaro, and äkoda marques and the truck manufacturer Scania.
---
L'Oreal
Hints:
The world's largest cosmetics and beauty company.
With its registered office in Paris and head office in the Paris suburb of Clichy, Hauts-de-Seine, France, it has developed activities in the field of cosmetics.
---
Nescafe
Hints:
Brand of instant coffee made by Nestlť.
Flagship powdered coffee product was introduced in Switzerland on April 1, 1938.
---
Pringles
Hints:
Brand of potato- and wheat-based snacks originally developed by Procter & Gamble.
Sold in more than 140 countries and have yearly sales of more than US$1 billion.
---
Twitter
Hints:
Online social networking service and microblogging service.
That enables its users to send and read text-based posts of up to 140 characters.
---
Michelin
Hints:
Tyre manufacturer based in Clermont-Ferrand in the Auvergne region of France.
It is one of the two largest tyre manufacturers in the world along with Bridgestone.
---
Reebok
Hints:
Producer of athletic shoes, apparel, and accessories.
Subsidiary of the German sportswear company Adidas since 2005
---
Red Bull
Hints:
Energy drink
The most popular energy drink in the world, with 4.5 billion cans sold each year.
---
Flickr
Hints:
Image hosting and video hosting website, web services suite, and online community.
In addition to being a popular website for users to share and embed personal photographs, the service is widely used by bloggers to host images that they embed in blogs and social media.
---
Pizza Hut
Hints:
American restaurant chain and international franchise.
Offers different styles of pizza along with side dishes including salad, pasta, buffalo wings, breadsticks, and garlic bread.
---
Ebay
eBay Inc.
eBay Incorporation
Hints:
American multinational internet consumer-to-consumer corporation.
Online auction and shopping website in which people and businesses buy and sell a broad variety of goods and services worldwide.
---
Amazon
Amazon.com, Inc.
Amazon.com
Hints:
American multinational electronic commerce company with headquarters in Seattle, Washington, United States.
It is the world's largest online retailer. The company also produces consumer electronics – notably the Kindle e-book reader.
---
Mcdonalds
mcdonald's
mcdonald
mc donald
mc donalds
mc donald's
Hints:
The world's largest chain of hamburger fast food restaurants
Serving around 68 million customers daily in 119 countries.
---
Skype
Hints:
Proprietary voice-over-Internet Protocol service
Software application originally created by John Szczepanik and Janus Friis in 2003, and owned by Microsoft since 2011.
---
Citroen
Hints:
major French automobile manufacturer, part of the PSA Peugeot CitroŽn group. First mass-production car company outside the USA.
Founded in 1919 by French industrialist(1878-1935). Pioneered the modern concept of creating a sales.
---
Microsoft
Hints:
American multinational corporation headquartered in Redmond, Washington, United States.
That develops, manufactures, licenses, and supports a wide range of products(for example windows).
---
Burger King
Hints:
Global chain of hamburger fast food restaurants headquartered in unincorporated Miami-Dade County, Florida, United States.
The company began in 1953 as Insta-Burger King, a Jacksonville, Florida-based restaurant chain.
---
Nissan
Nissan Motor Company Ltd
Nissan Motor Company
Nissan Motor
Hints:
Multinational automaker headquartered in Japan.
It was a core member of the Nissan Group, but has become more independent after its restructuring under Carlos Ghosn (CEO).
---
Ibm
International Business Machines
International Business Machines Corporation
Hints:
American multinational technology and consulting corporation headquartered in Armonk, New York, United States.
IBM manufactures and sells computer hardware and software, and it offers infrastructure, hosting and consulting services in areas ranging from mainframe computers to nanotechnology.
---
Mtv
Hints:
American network based in New York City that launched on August 1, 1981.
The original purpose of the channel was to play music videos guided by on-air hosts known as VJs.
---
Intel
Hints:
American multinational semiconductor chip maker corporation headquartered in Santa Clara, California, United States.
The world's largest and highest valued semiconductor chip maker, based on revenue.
---
Sap
Hints:
Software corporation that makes enterprise software to manage business operations and customer relations.
Headquartered in Walldorf, Baden-WŁrttemberg, with regional offices around the world, SAP is the market leader in enterprise application software.
---
Swatch
Hints:
Brand name for a line of non-luxury wrist watches introduced in 1983.
The production of Swiss watches and related products.
---
Whirlpool
Hints:
American multinational manufacturer of major home appliances headquartered in Benton Charter Township, Michigan, United States, near Benton Harbor, Michigan.
passed Electrolux to become the largest home appliance maker in the world.
---
Youtube
Hints:
Video-sharing website.
Created by three former PayPal employees in February 2005, on which users can upload, view and share videos.
---
Nintendo
Nintendo Co., Ltd.
Nintendo Co.
Hints:
Japanese multinational consumer electronics company located in Kyoto, Japan.
Founded on September 23, 1889 by Fusajiro Yamauchi, it produced handmade hanafuda cards.
---
Adobe
Adobe Systems
Adobe Systems Incorporated
Hints:
American multinational computer software company founded in 1982 and headquartered in San Jose, California, United States.
The company has historically focused upon the creation of multimedia and creativity software products.
---
Sony
Hints:
Japanese multinational electronics and media corporation headquartered in Konan Minato, Tokyo, Japan.
It ranked 73 on the 2011 list of Fortune Global 500
---
Msn
Hints:
Collection of Internet sites and services.
Services provided by Microsoft.
Do you like this page ?
---
Original Logo Quiz Answers
Bubble Quiz Game
Others